The Matrix class represents a transformation matrix that determines how to map points from one coordinate space to another. You can perform various graphical transformations on a display object by setting the properties of a Matrix object, applying that Matrix object to the matrix property of a Transform object, and then applying that Transform object as the transform property of the display object. These transformation functions include translation (x and y repositioning), rotation, scaling, and skewing. Together these types of transformations are known as affine transformations. Affine transformations preserve the straightness of lines while transforming, so that parallel lines stay parallel.
To apply a transformation matrix to a display object, you create a Transform object, set its matrix property to the transformation matrix, and then set the transform property of the display object to the Transform object. Matrix objects are also used as parameters of some methods, such as the following:
The draw() method of a BitmapData object
The beginBitmapFill() method, beginGradientFill() method, or lineGradientStyle() method of a Graphics object
A transformation matrix object is a 3 x 3 matrix with the following contents: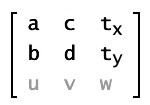 In traditional transformation matrixes, the u, v, and w properties provide extra capabilities. The Matrix class can only operate in two-dimensional space, so it always assumes that the property values u and v are 0.0, and that the property value w is 1.0. The effective values of the matrix are as follows: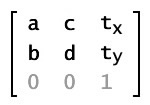 You can get and set the values of all six of the other properties in a Matrix object: a, b, c, d, tx, and ty.
The Matrix class supports the four major types of transformations: translation, scaling, rotation, and skewing. You can set three of these transformations by using specialized methods, as described in the following table:
| | | | | |
| --- | --- | --- | --- | --- |
| Translation (displacement) | translate(tx, ty) | | | Moves the image tx pixels to the right and ty pixels down. |
| Scaling | scale(sx, sy) | | | Resizes the image, multiplying the location of each pixel by sx on the x axis and sy on the y axis. |
| Rotation | rotate(q) | | | Rotates the image by an angle q, which is measured in radians. |
| Skewing or shearing | None; must set the properties b and c | | | Progressively slides the image in a direction parallel to the x or y axis. The b property of the Matrix object represents the tangent of the skew angle along the y axis; the c property of the Matrix object represents the tangent of the skew angle along the x axis. |
Each transformation function alters the current matrix properties so that you can effectively combine multiple transformations. To do this, you call more than one transformation function before applying the matrix to its display object target (by using the transform property of that display object).
Use the new Matrix() constructor to create a Matrix object before you can call the methods of the Matrix object.
Constructor
new

(a:

Float

= 1, b:

Float

= 0, c:

Float

= 0, d:

Float

= 1, tx:

Float

= 0, ty:

Float

= 0)
Creates a new Matrix object with the specified parameters. In matrix notation, the properties are organized like this: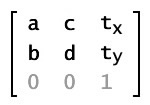 If you do not provide any parameters to the new Matrix() constructor, it creates an identity matrix with the following values:
In matrix notation, the identity matrix looks like this:

Parameters:
| | |
| --- | --- |
| a | The value that affects the positioning of pixels along the x axis when scaling or rotating an image. |
| b | The value that affects the positioning of pixels along the y axis when rotating or skewing an image. |
| c | The value that affects the positioning of pixels along the x axis when rotating or skewing an image. |
| d | The value that affects the positioning of pixels along the y axis when scaling or rotating an image.. |
| tx | The distance by which to translate each point along the x axis. |
| ty | The distance by which to translate each point along the y axis. |
Variables
Methods